Do you need some detox support? Take the test "50 signs of toxicity"
January comes and the big buzz word is detox!
It is one of the most used word on the internet and part of many  New Years' resolutions.
But why think of detoxing only in January? Why not make  it a way of life?
Our world is incredibly polluted, we are exposed each day to hundreds of harmful chemicals through the air we breath , the water we drink, the food we eat, the products we use for our personal hygiene, the medication we take.
The average adult's body contains over 700 different contaminants and according to the Environmental Working Group research, the average infant is born with more than 200! Since 1940 more than 80,000 new chemicals are introduced into the environment every year.
Our body is equipped with a very efficient and sophisticated systems of organs to neutralize toxins and preparing them for elimination. They include  liver, kidneys, lungs, bowels and the skin. Detoxification, or biotransformation of toxins, is a process that happens constantly in our body.
So why do we need to "detox" if we have all that  is needed "in house"?
Here is the  truth
if you avoid alcohol and other toxic substances such as cigarette, burned foods, exposure to chemicals, pesticides and other contaminants
if you have 10 portions of fruit and vegs daily
if you drink plenty of clean water in between meals
if you sleep between 7 and 8 hours per night
if you exercise daily
if you keep your stress low…
If you do all of the above daily… congratulations!
You are already supporting your daily natural detoxification processes and you are meeting your day to day detoxification needs.
But let's be honest!
How many of us can really say that they stick to the above on a daily basis  and how possible is it in our  world to avoid environmental toxicity?
The reality is that most our livers would  benefit from some extra help!
Our innate ability to detoxify can be supported and enhanced by following regular programmes of detoxification.
Find out if your detoxification system needs some help
Take the test!
Tick any of the symptoms that you suffer regularly
Do you suffer from brain fog, lack of focus?
Do you feel tired, exhausted, lethargic, fatigued?
Do you feel bloated, suffer from indigestion, nausea?
Are you constipated or have diarrhoea?
Do you lack appetite?
Do you experience cravings?
Do you have food intolerances, chemical sensitivities?
Do you have halitosis?
Do you have excess mucus in nose, ears, throat or stool?
Do you suffer from sinus congestion?
Do you suffer from acne, spots, pimples, boils, psoriasis?
Do you have dry, itchy skin?
Do you suffer from PMS or menopausal symptoms?
Do you suffer from anxiety, low moods?
Do you suffer from headaches?
Do you suffer from joint and muscle pain or an autoimmune condition?
Do you suffer from allergic conditions, eczema, hives, asthma?
Do you find it difficult to have good quality sleep?
Do you have puffy eyes or dark circles under them?
Are you overweight or finding it difficult to lose the last 5, 10, 20 pounds?
Do you have recurrent infections?
Do you suffer from haemorrhoids?
Do you suffer from sea, car or airplane sickness, motion sickness?
The more you have ticked the more likely you need a detox.
January follows a month of food and drinks indulgence, non-stop social commitments, lack of sleep, disrupted exercise routines and is followed by a drop of energy and moods, tired looking skin and few extra pounds!
The toxic body burden is high and the day to day detoxification needs have been neglected and our liver abused. It is the perfect time to think about a gentle detox, to support the reduction of the body toxic burden and its elimination, to give a little reboot to your system and feel refreshed, clean and re-energised.
If you want to learn what you can do to improve your detoxification and decrease your symptoms, join me for a full day retreat on 21st January during which I will explain you the different forms of toxins and how to support detoxification with natural foods and nutrients.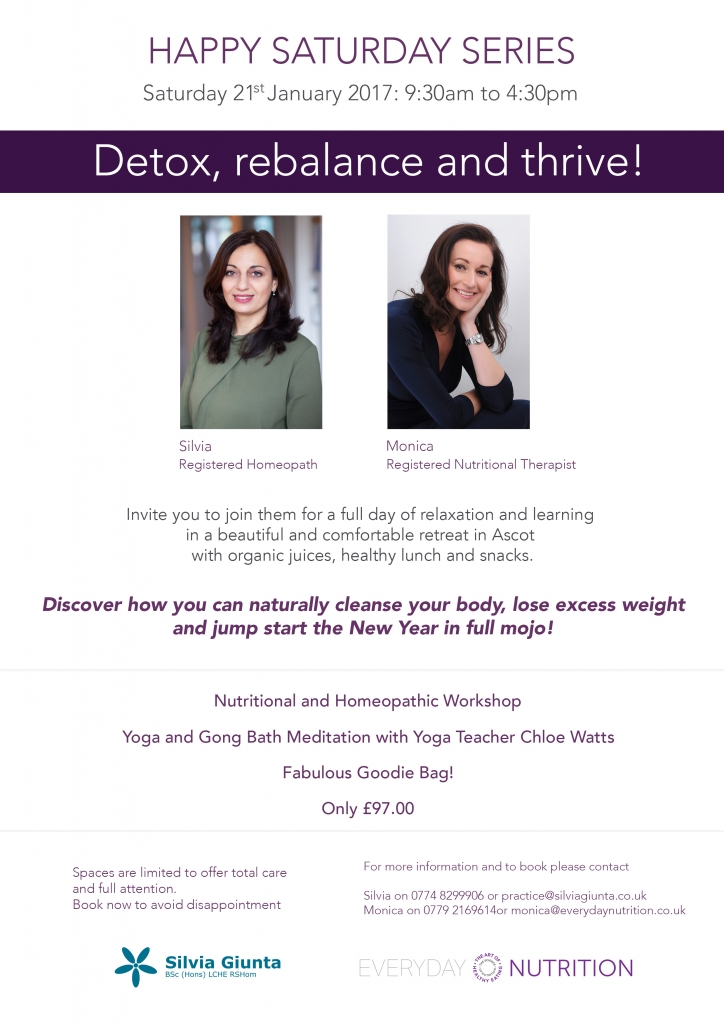 My colleague Silvia Giunta will be explaining how homeopathy can help and yoga master Chloe Wats will teach us a yoga class focused on supporting the organs of detoxification. Organic juices, snacks and lunch will be served and we will end the day with a soothing and relaxing gong bath meditation.
The retreat is in a comfortable and beautiful location in Ascot and the number of participants is small to assure a very relaxing and nurturing atmosphere.
You will go home relaxed, refreshed, with a smile on your face and a fabulous gift bag!
Wishing you the best health and vitality,